The festival of colors is here and I can't contain my excitement 🎉 💚 ❤️ 💜 💛 💖 🧡 💃 🕺🥳
After Covid, this is the first year when I'll come out of the virtual setup and celebrate with my colleagues confidently. However, some offices still operate in a hybrid setup.
Therefore, I have come up with creative Holi ideas so that both in-person and virtual employees feel included. From playing a safe holi, hybrid Holi party games to Holi gift ideas for the winners, I've got you covered.
Let's make it a Holi-day to remember and play a safe Holi 2023.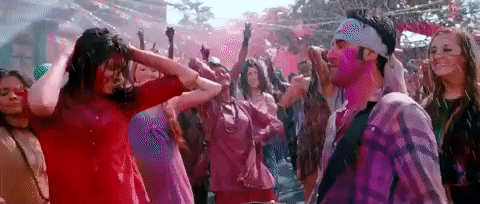 Virtual Holi celebration ideas for office
Gather your gang and get ready to have a blast on Holi! It all starts with a great holi event name that everyone will remember. Then, unleash your creativity to craft some spectacular experiences together! Here are some incredible holi celebration ideas you can use for inspiration:
1. Rang Barse Virtual Workout Party
By now most of your employees have done at least one virtual fitness class. What they haven't done, is a holi dance party virtually – not only does everyone dance together but they get in those extra steps in for guilt-free gujiyas. Bring a zumba instructor or a Bollywood dance expert on-board for this exciting party, who will guide the participants through the dance moves. Upload your Holi song playlist on your virtual event and hit play!
2. Rangde – Antakshari
Time to up the game and let the karaoke tracks play – from rang barse to holi ke din to jai jai shiv shankar to balam pichkari. Do we need to say more? Uncover that hidden talent in your team as you celebrate with a virtual antakshari, and let the mood of music be set by your employee's celebrations!
3. Virtual Masterchef
Yes, we know we can't enjoy those yummy sweets virtually, but who says we can't show off our best food? Don't we all enjoy masterchef? It's time for a 1-hour elimination round where you uncover a mystery box and participants cook live. Even maggi can be cooked in gourmet style, but if that isn't up your alley, how about a perfect poached egg?
4. #WFHoli
Everyone has their memorable holi moment. It's time to go down memory lane and ask your employees to upload theirs with custom AR photo filters within your own branded employee app. You can organize it as a fun activity, or make it competitive by including voting for the best image and rewarding the winners with a special prize!. Don't forget to give badges to all participants, and definitely share these special moments on social. Want to build your own employee app – Know more!
5. The Virtual Holi Concert
It already sounds like a tiring day if you are done with the activities shared above. So who would mind a relaxed concert to end the evening? You can either stream a pre-recorded video or stream a Live Holi performance using RTMP. Don't forget that the audience can react with emoji and be engaged in a wonderful and relaxing musical session!
Hybrid Holi party games
Hybrid Holi Party Games involve a mix of traditional Holi activities and virtual games that can be played remotely. These games provide a fun and engaging way to bring people together, creating a festive atmosphere no matter where they are.
1. Pichkari Treasure Hunt
Your favourite white shirt for holi? Your best painting you did for holi in 30 minutes? The most colorful dress/shirt you have in your closet ? A team-collage that represents your company? Post a photo with colors on you? What is the zipcode of our recently hired employee? The list of quirky holi-related items to gather for a virtual treasure hunt simply goes on.
2. Holi Quiz
We all love trivia, so why miss out on a trivia session about Holi? You may think that everyone knows everything about Holi, but we bet that you would have a hard time naming what holi is called in Goa (don't cheat and look above)! Using a mobile event app can make these contests a breeze to run.
3. Holi Bingo
Bingo is one of the most popular hybrid Holi party games. Participants are given cards with Holi images or words. The host then calls out the words or phrases and participants cut them off of their lists. The first person to finish a row or a column wins.
4. Hybrid Holi Charades
Charades is another interactive Holi game played at hybrid Holi parties, where virtual participants can play through video conferencing. They take turns acting out Holi-related words or movies, and their team members must guess what they mean. The team with the most correct guesses wins.
creative Holi Celebration Ideas For Work
From enjoying gujiyas, to dancing through the day in holi color water and gulping down thandai – It's the day for all of us to come together with friends, colleagues and family to celebrate the joys of life.
1. Holi Potluck
Different states in India celebrate Holi in different ways. What better way is there to celebrate the colorful diversity than with a potluck? Ask your employees to bring their native favorite dishes and enjoy the tastes of various states of India.
2. Holi Outfit Dress Up
This year, celebrate Holi by learning more about the festival's significance and history.
What better way to celebrate Holi than wearing bright and colorful Holi outfits? Gift your loved ones some traditional Indian clothing such as a Kurta or Saree in bright colors like pink, yellow, green, or blue.
3. Create Tie Dye Shirts
Encourage Holi creativity with a fun tie-dye activity! Gather all the materials – white shirts, tie-dye colors of choice – to see what unique shirt creations everyone comes up with. Let your employees unleash their inner artist. It's a great way for them to express themselves and have some fun!
4. Charity Drive
Festivals provide ample opportunity to give back to the community. Conduct a charity drive with your employees. Distribute sweets, clothes and colors to the needy and spread the Holi joy amongst those who need it the most. By spreading some love and kindness, you'll truly embody the spirit of Holi.
5. Karaoke Holi
Holi and music are the perfect combination and Karaoke Holi is an amazing way to bring them together! Embrace the joy of singing your favourite Holi songs with friends and family during the festive season. Get yourself a large screen & speakers so everyone can sing and dance together.
Must have songs are. -"Rang Barse" from the movie Silsila, "Holi Ke Din" from the movie Sholay, and "Balam Pichkari" from the movie Yeh Jawaani Hai Deewani.
6. Promote on Social media
Some of your employees may not join the hybrid Holi celebration. But that doesn't mean you leave them out. They can like, share and comment on your posts. This way all employees connect together and you bag that extra Holi engagement from employees. A win-win for all.
7. After Party
Who says the fun ends on Holi? Download instant recordings and use the video to make an epic montage that can be made available on-demand. This is the type of fun employee memento your associates can share with family and friends, besides showing-it-off on their social media!
Don't forget the music ! – Here is our Holi music playlist
Holi gift ideas for the winners
Wondering what to give as prizes for the Holi games? Or, what to give to the participants who took part in the Holi celebrations? We've got you covered! Below are some fun Holi gift ideas:
Holi Special Hampers: Wrap up the Holi virtual games with Holi gift hampers that include a mix of sweets, snacks, and colorful items such as water guns, 'pichkaris', and colored powders.
Plants and Flowers: If you're looking for some eco-friendly Holi gift ideas, plants or flowers are the best. You can choose from a variety of flowering plants such as marigolds or jasmine, or gift them a small indoor plant that they can keep on their desk or windowsill.
Personalized Gifts: You can also consider gifting your loved ones some personalized gifts like photo frames, coffee mugs, or cushions with their pictures or names printed on them.
Tips to play safe Holi
Holi is close to all our hearts but it's also infamous for chaos and fights. It's important to keep some safety tips in mind so everyone can enjoy a Holi to its fullest. Below are some tips to play a safe Holi:
Choose organic holi colors: There's no Holi without colors. But there's no point using hard colors that don't come off till a week. Buy natural holi colors powder or make your own organic colors

Red color: Mix red sandalwood powder with water to make a thick paste.
Yellow color: Mix turmeric powder with gram flour (besan) and water to make a yellow paste.
Green color: Grind fresh leaves of mint or coriander into a fine paste, or mix mehndi (henna) powder with some flour and water to make a green paste.
Blue color: Boil chopped cabbage leaves in water until the water turns blue. Strain the water and let it cool.
Purple color: Grind beetroot into a fine paste and mix it with water.
Protect your skin and eyes: Wear full-sleeved clothes and protect your eyes with sunglasses or goggles to prevent any direct contact with the hard colors. If organic Holi colors are not available, apply a thick layer of coconut oil or any other oil on your skin before playing Holi to prevent any skin damage.
Be cautious while playing with water: Adding Holi colors powder into water is a common tradition during Holi, but it can be dangerous too. Avoid throwing water balloons or using high-pressure water guns, as they can cause injury or accidents. Use a small bucket or sprinkle water gently.
Keep a first-aid kit handy: Accidents can happen anytime, so it's always better to be prepared. Keep a first-aid kit handy with essential items like antiseptic cream, band-aids, and eye drops to handle any emergency.
Respect boundaries: While Holi is a time to have fun and celebrate, it's important to respect people's boundaries. Always take permission before applying holi colors powder on someone, and refrain from playing Holi with people who don't want to participate.
15 Super Fun Holi event name Ideas
Jashn-e-Rang
Rangotsav 2023
Rang Day 2023
Holi Wood
Wild Holi Bash
Rango Ki Barsaat
Vasant Ke Rang
Spalsh of Colors
Festival of Love
Thandai Holi
Holi Tie-dye Party
Hues of happiness
Holi Bloom 2023
Spring Colors
Holi Bonfire
Fun facts about Holi History
Why do we celebrate Holi?
The history of Holi goes back to ancient India when people used to celebrate Holi to mark the beginning of spring. The festival is also associated with a mythological legend of Prahlad – a devotee of Vishnu, and Hiranyakashyap – an evil king and Prahlad's father.
Hiranyakashyapa tried to kill Prahlad multiple times but he failed. Finally, he asked his sister, Holika, who had a boon that she can't be burned. Holika sat at a bonfire with Prahalad, hoping he would get burned. However, Lord Vishnu protected Prahlad, and Holika was burned to death.
Thus, the festival Holi is celebrated to mark the victory of good over evil.
Did you know that Holi is actually a 2-day festival (and in some places more than 2 days)?
The first day of Holi is commemorated by lighting a bonfire to cleanse and burn away all the evil.
The second day is the day of colours – the mainstream celebration we all love and are aware of, and celebrate, with colors and water balloons.
Holi is celebrated in almost ALL states in India, with different names
Different states in India celebrate Holi as a differently-called festival. Pakuwah (Assam), Baithaki (Uttarakhand), Shigmo (Goa), and Dulandi (Haryana) are few.
Did you know about Lathmar Holi?
A unique Holi celebrated in Barsana (in Uttar Pradesh) – the native place of Lord Krisha. In this holi celebration, Gopis (women) beat the Gops (men) with sticks, as the men hold shields to prevent themselves from getting colored by bruises.
What the Holi colors signify?
Red symbolizes love and fertility, yellow matches the color of the natural remedy turmeric, green is for spring, and blue is for Krishna.
Now that we got some Holi history – Time to say