The festival of colors is just around the corner, as we get ready to bid farewell to the season of spring. A day of colors, water guns and a day to set aside all differences and celebrate.
From enjoying gujiyas, to dancing through the day in color-soaked water and gulping down thandai – It's the day for all of us to come together with friends, colleagues and family to celebrate the joys of life.
Don't forget the music ! – Here is our Holi playlist 🎉 💚 ❤️ 💜 💛 💖 🧡 💃
Oh and who says you can't have fun virtually? Before we share some exciting ideas for a Virtual Holi party, here are some facts that you probably didn't know about the festival!
1. Did you know that Holi is actually a 2-day festival (and in some places more than 2 days)?
The first day of Holi is commemorated by lighting a bonfire to cleanse and burn away all the evil.
The second day is the day of colours – the mainstream celebration we all love and are aware of, and celebrate, with colors and water balloons.
2. Did you know Holi is celebrated in almost ALL states in India, with different names?
Different states in India celebrate Holi as a differently-called festival. Pakuwah (Assam), Baithaki (Uttarakhand), Shigmo (Goa), and Dulandi (Haryana) are few.
3. Did you know about Lathmar Holi?
A unique Holi celebrated in Barsana (in Uttar Pradesh) – the native place of Lord Krisha. In this holi celebration, Gopis (women) beat the Gops (men) with sticks, as the men hold shields to prevent themselves from getting colored by bruises.
4. Did you know what the Holi colors signify?
Red symbolizes love and fertility, yellow matches the color of the natural remedy turmeric, green is for spring, and blue is for Krishna.
Looking for event gamification?
Speak to one of our experts today or book a demo
Now that we got some facts let's dive into how this year's virtual holi with friends, family & colleagues can create moments to unwind and have fun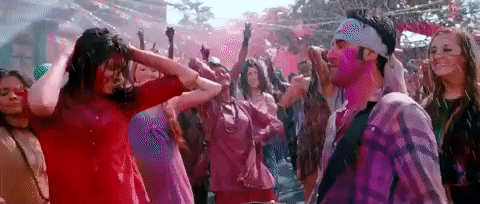 Rang Barse Virtual Workout Party
By now most of your employees have done at least one virtual fitness class. What they haven't done, is a holi dance party virtually – not only does everyone dance together but they get in those extra steps in for guilt-free gujiyas. Bring a zumba instructor or a Bollywood dance expert on-board for this exciting party, who will guide the participants through the dance moves. Upload your Holi song playlist on your virtual event and hit play! Virtual event platforms like Nunify allow you to stream video without lag while all speakers & participants are live on the screen. We are certain that this party will include some of the most memorable moments that you get to download to make the most FUN montage of 2021.
Rangde – Antakshari
Time to up the game and let the karaoke tracks play – from rang barse to holi ke din to jai jai shiv shankar to balam pichkari. Do we need to say more? Uncover that hidden talent in your team as you celebrate with a virtual antakshari, and let the mood of music be set by your employee's celebrations!
Virtual Masterchef
Yes, we know we can't enjoy those yummy sweets virtually, but who says we can't show off our best food? Don't we all enjoy masterchef? It's time for a 1-hour elimination round where you uncover a mystery box and participants cook live. Even maggi can be cooked in gourmet style, but if that isn't up your alley, how about a perfect poached egg?
#WFHoli
Everyone has their memorable holi moment. It's time to go down memory lane and ask your employees to upload theirs with custom AR photo filters within your own branded employee app. You can organize it as a fun activity, or make it competitive by including voting for the best image and rewarding the winners with a special prize!. Don't forget to give badges to all participants, and definitely share these special moments on social. Want to build your own employee app – Know more!
Looking for event gamification?
Speak to one of our experts today or book a demo
Pichkari Treasure Hunt
Your favourite white shirt for holi? Your best painting you did for holi in 30 minutes? The most colorful dress/shirt you have in your closet ? A team-collage that represents your company? Post a photo with colors on you? What is the zipcode of our recently hired employee? The list of quirky holi-related items to gather for a virtual treasure hunt simply goes on.
Holi Quiz
We all love trivia, so why miss out on a trivia session about Holi? You may think that everyone knows everything about Holi, but we bet that you would have a hard time naming what holi is called in Goa (don't cheat and look above)! Using an engaging employee app platform like AIDA, you can run these contests as a build-up to the big virtual holi event.
The Virtual Holi Concert
It already sounds like a tiring day if you are done with the activities shared above. So who would mind a relaxed concert to end the evening? You can either stream a pre-recorded video or stream a Live Holi performance using RTMP. Don't forget that the audience can react with emoji and be engaged in a wonderful and relaxing musical session!
After Party
Who says the fun ends on Holi? Download instant recordings and use the video to make an epic montage that can be made available on-demand. This is the type of fun employee memento your associates can share with family and friends, besides showing-it-off on their social media!
We have a lot more brewing that we will continue to share. For now …